Edible chocolate stamps were made in Belgium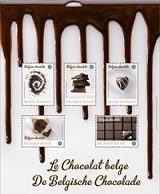 On 13th of August, Belgium issued extraordinary stamps that have chocolate aroma and taste.
Half million stamps were produced and printed on special paper enriched with the smell of cocoa and glazed to have similar to chocolate look and smell.
Belgian post office BPost has issued 5 special stamps dedicated tot eh total renovation of the country's national pride – chocolate and chocolatiers. It is dedicated to chocolate in all its manifestations.
In order to create the collection of chocolate-themed stamps Belgium involved international team from Germany, Belgium, Netherlands and Switzerland to help develop the product.