Postage Stamps History
Small-scale Glass Painting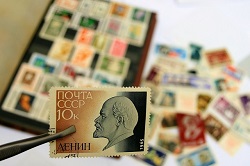 The first stamp for postal services in the world was created and introduced in the UK, and it was called a Black Penny, having a picture of Queen Victoria on it. It is really an interesting thing, how people come up with stamps and how they were introduced to the public and how postal service could have been without stamps at all.
What Was before the Envelope?
The postal stamp era starts from 1840, the year when the first stamp was released. Before the paper stamps, there were other types, made from cork or wood. There were also special hand-stamps and inks for verification of letter payment and sender. No matter what systems of verification were popular, as they were sent without actual postal stamp on it.
At the beginning of postal service, people didn't even think about envelopes. Frankly speaking, envelope was considered as only additioinal piece of paper which made the process rather more costy. In order to send a letter, you needed just to seal it so the message within is not seen. The one who receives your letter should pay for it, it is as simple as that. The fees for letters were comparatively high, so lots of people declined the letters coming to them. There were even profound cheating systems in order to fool the postal services. They used to write secret small messafes on the top of the letter, they saw it when they received a letter, and then they declined it. Because such system was too popular, the postal services made sender pay for the message and the era of postage stamps began.
Rowland Hill the Reformator
The postal reform took place because of efforts put by Rowland Hill. He changed the system that the postage fee was paid due to the weight of the mail, rather than its size. He was the one to come up with the first dhesive stamp in 1837, later he was made a knight for this invention. The first stamp – Penny Black – the beginning of stamps era, was firstly issued in UK in 1840. It led to the simplification of the letters' payment process, as well as gave an ability to prepay letters, and the price was really affordable.
Postage Stamps History (Part 2)